To follow and join the auctions online
To obtain in depth information about the prodcuts and access their reports of their conditions
To be notified about the auctions and the products
REGISTER
CLOSE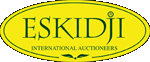 The following conditions will be applicable if the works of car placed by our customers for the auctions are sold.
Payment: You will be paid for your car immediately after the collection and transfer transactions were made.
Commission: Please contact with our cars department for sale commissions.
Conditions: You should talk to the person authorized in the cars department relating to this issue.
Delivery: The cars are delivered for auctions between 10:00 - 18:00 on Tuesdays and Wednesdays. You should keep the licenses and similar documents with your car as you visit the department since photos will be taken and condition reports will be prepared.
The preliminary registrations of the cars may be executed at the locations they stand by the persons authorized in the department.