To follow and join the auctions online
To obtain in depth information about the prodcuts and access their reports of their conditions
To be notified about the auctions and the products
REGISTER
CLOSE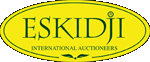 The following conditions will be applicable if the works of art placed by our customers for the auctions are sold.
Payment: The payment to the sellers will be made on the 36th day following the sale in cash.
Commission: Please contact our arts departments for sales commissions.
Specifications: Please contact our arts department for the conditions of sale.
Delivery: The Works of art should be delivered to Eskidji Moda or Şişli between 10:30-18:00 Monday to Friday

and they should be submitted for the inspection of the experts.