To follow and join the auctions online
To obtain in depth information about the prodcuts and access their reports of their conditions
To be notified about the auctions and the products
REGISTER
CLOSE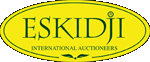 | | |
| --- | --- |
| | ESKIDJI was founded in 1997. It held its first auction in the branch of "Art Works" with its 12 employees. Expanding its activities in 2001 Eskidji also began to hold auctions in the branches of "Real Estate", "Clearance", "Textile", "Machinery & Equipment" and "Automobiles". With its "State fiduciary" under law number 6183, its electronic equipment appropriate for holding simultaneous auctions in 8 different places, its annual turnover of over 1 billion dollars, ESKIDJI is Turkey's paramount auction house. |
Eskidji in Figures
Closed area
:37:000 m²
Closed area
:37:000 m²
Number of offices
:96
Number of agents
812
Number of employees
:873
Number of merchandise and property sold to date
430.733
Number of provinces in which auctions were held
:65
Number of auctions held in 1 month (June 2004) (World Record)
:96
Greatest number of auctions held in 1 month (February 2002) (Turkish Record)
:116
Number of auctions held over 11 years (by the end of 2008)
:1.903
Greatest number of auctions held in 1 day (05/02/2002)
:7
Highest overall bidding in 1 day (03/07/2007)
:209.068.751.-TL
Highest number of pieces sold at 1 auction (23/07/2001 – Sümerbank)
:2.700 pieces
Highest bid placed on a single lot at an auction (03/07/2007)
:166.000.000.-TL
Highest amount for Inter-Connect lot (22/03/2005)
:7.000.000.-TL
Longest Public Bidding Assembly (25/05/2003 İş Bankası Real Estate)
:15 hour 10 minute
Auction with highest attendance (10/06/2001 – Sümerbank Oto)
:3.000 people
Your surplus may be the immediate need of others.
Keeping this in mind, with its auctions organised at least twice a month attended by hundreds of people, the ESKIDJI Clearance department is the broker for selling merchandise belonging to many banks, institutions, persons and companies.
Hundreds of bank branches, hotels and various public institutions have been sold off in the most transparent and rapid manner by our clearance department's mobile team comprising of 60 people.
The buyer determines the price at clearance auctions attended by hundreds.
ESKIDJI held its first clearance auction with the products of the "Printemps" stores.
The real value of your car can only be verified by an auction.
ESKIDJI Automobiles periodically organises Automobile auctions with its professional staff, and achieves record prices. Over 9000 vehicles changed hands at ESKIDJI within the last 8 years. The best solution for fleet sales is provided by ESKIDJI Automobiles.
This is because automobile auctions are open to all buyers who have made a down payment. Thus providing a large amount of attendance at car auctions a competitive environment is provided and the real sale value is reached.
A new ground has been broken in Turkey!
The Sümerbank Automobile Auction was the first private vehicle auction held in Turkey. The auction was held in the ESKIDJI car park with an attendance of more than 3.000 people. All the vehicles were sold at approximately 40% over their reserve price.
Eskidji Art
The Art Department, presently continuing to operate in the mansion at Moda, has mediated for 32.416 pieces of miscellaneous antiques, objects, carpets, paintings and old works to change hands in twelve years.
Eskidji Real Estate
People specialised in their own particular branch are employed in the department operating in the most modern auction house of the world in Yenibosna. Hundreds of applications coming from all around Turkey are examined with great care. Auction meetings, in which an effective buying and selling climate is created, including bank and state sales, are organised time and again. Furthermore, "Portfolio Sales" provide the opportunity to buy real estate outside auctions as well.
Real Estate Central Projects
The Central Projects Department has specialized in the sale of real estate through "Auction" and "Public Bidding".
36 architects, civil and topographic engineers, and retirees from the land registry are employed in the department. The property of a great number of banks and public institutions are advertised, photographed and subjected to expert advice by this department.
Real Estates, promoted by the help of District Partnerships, are prepared for auctions. Through the technical infrastructure this department itself only holds, audio and visual auctions are held in İstanbul, Ankara, İzmir and Adana. With a team of six expert auctioneers six daises can be directed simultaneously.
This department has mediated in the sale of more than 23.000 real estates in almost 500 Auctions and Public Biddings up to the present day, and none of the meetings held by the department have been deemed legally invalid and cancelled.
Real Estate Special Projects
The sales and promotion services of the important projects below are administered by ESKIDJI.
Seyhan Park Houses / ADANA
The Seyhan Park Houses comprising of 414 houses has provided the people of Adana with the desired standard of living with its magnificent woods, racetrack, walk, cycling track, 3 open swimming pools, playground, saunas, parking lots and garages, its market, sports area and social facilities. The Seyhan Park Houses have been constructed by Eskidji İnşaat A.Ş., which is an ESKIDJI participation
Yüksek Vadi Houses / İZMİR
The Aegean investment leader Esbaş, Aegean Free Zone Founder and Administrator, has reset housing standards in İzmir! Thus the Yüksek Vadi Houses comprising of 6000 houses of high living standards were put up for sale with convenient and easy payment alternatives. The sales and promotion campaigns of this important project is administered by ESKIDJI.
Olivia Village FOÇA / İZMİR
OLİVİA Village, realized by ESKIDJI Müzayedecilik A.Ş., is comprised of a total of 76 Residences in 25 different villas on a land of 18.037m2 on the Çanak Bay of Foça.
Olivia Village is a private housing estate that has a management standard of five star hotels. It includes all kinds of comfort with its swimming pool, sauna, Finnish steam bath, gym, tennis court, basketball field, mini football field, mini golf, billiards, pinball, internet café, open-air chess, game arcade, playground and game hall for children, open-air and indoor restaurants, roof café, agora café with fountain, beach café, American bar, disco, walks, mini market, TV hall and private beach.
Housing Estate Lottery Organizations ESKIDJI / TOKİ PROJECTS
Within the scope of the Housing Campaign realized by Republic of Turkey Prime Ministry Housing Development Administration of Turkey (TOKİ), 600.000 families, approximately 3.000.000 people, will own a house. ESKIDJI takes part in this significant campaign with its promotion and lottery organizations. In addition to the 415 housing estate projects in 2006, 90 projects in the year 2007 and 86 more projects in 2008 were handed over to their owners by ESKIDJI through lottery.
During the 2008 promotion activities,
2.602.340 advertisement brochures
420.600 posters
5.461 banners
1.932.340 newspaper inserts were used.
During the promotional activities the promotion of the project was realized interviewing 6.000.000 people.
Due to the high number of applications for the 223 projects, a fully equipped lottery team of 15 people drew lots with their equipment in the project sites and distributed 43.418 houses to the lottery winners.
A distance of 980.000 km has been covered for the promotions and lotteries of these projects. 980.000 km is 25 times the world's circumference around the equator.
ESKIDJI has been appointed for this significant campaign in 2009 as well.
The Flea Market
The Eskidji Flea Market is a totally new "concept market" outside of the shopping mall mentality, where various products are presented to the consumers at extremely convenient prices.
With its parking lot, security, air conditioning, music broadcast and fire extinguishing system the Flea Market aims to provide its visitors with a shopping experience in a safe environment. In the Eskidji Flea Market comprising of 2 Halls and 600 stands in a closed area of 27.000 m2, all the resources of a modern shopping mall are offered with a product range varying from art works to textile products for men, women and children, toys, sports, shoes, souvenirs, hair dressers, electronic goods, white goods, furniture, home and vehicle music systems, automobile care, tailors, orthopaedics, second hand clothes, handicrafts, perfumery, design accessories, home decoration and cafeteria. Visited by 250.000-300.000 people per month and open between 10:00 and 21:00 everyday including Sundays, the Eskidji Flea Market holds a high capacity of shopping.