To follow and join the auctions online
To obtain in depth information about the prodcuts and access their reports of their conditions
To be notified about the auctions and the products
REGISTER
CLOSE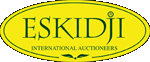 The pointing system was prepared for giving general information regarding the conditions of the items placed and being offered for sale by Eskidji Müzayedecilik A.Ş. in relevant departments.
All the items to be placed in the auctions will be inspected by the persons concerned in the relevant departments honestly and diligently. Based on the inspection, the expert will have an opinion about the product. This opinion will be given to the buyers through the following pointing system.
You must note that the pointing system is the expert's opinion in Eskidji just like the rest of the world and it is never binding.
Under all products in the online catalogue, there is a Condition Report button on the right hand side. Information relating to the condition of the item is provided for the buyers as efficiently as possible.
Eskidji insists on the products being seen by the potential buyers personally at the venues of physical sales.